Dover Distributor
26 June 1993
---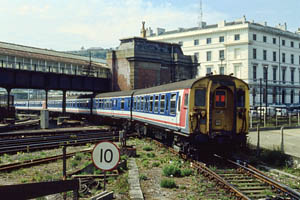 The odd title for the railtour derives, apparently, from the fact that the class 47 locomotives scheduled to haul the trip were drawn from the Railfreight Distribution pool at Tinsley. As far as we were concerned, it was simply a case of a railtour with a route which offered some variety, and some unexplored territory on the Southern.
47s now have their own band of dedicated followers, a fact of which I had remained blissfully ignorant until Saturday 26th June, when Steve and I joined the train at Kidderminster. It was organised by Atlas Railtours, a new body on the railtour scene, named after the locomotive D1667 / 47 626. It doesnít seem long since the Brush Type 4s came on to the scene, at first just a few, then hundreds of the things - boring! I tried then to imagine a day when people might want to preserve them, but soon gave up. It just wasnít possible. Todayís raffle had just that objective. (No, I didnít!)
The trip itself was due to travel via Swindon and Reading, then onto the Southern to Victoria. There would follow a devious route to Ashford, Canterbury, Dover, Folkestone, Ashford and Canterbury again, then along the north Kent coast back through Clapham Junction and home again.
It was only a few minutes late as it rolled into Kidderminster, headed by 47 276. The short platform caused some further delay, as our seats were some way off the end! Soon away, we headed through Worcester to Cheltenham, and on past Gloucester to Standish Junction, here taking the Sapperton line. A most pleasant route for a fine summerís day!
Swindon was the cause of some further unexplained delay - we were 25 minutes late by the time we left, and though we lost no more, we did not regain any before reaching Victoria, despite some 90mph running on the GWR main line.
From Reading, where many of the new Networker Turbo class 165 units were evident, we took the electrified route to Wokingham, and on to Ascot. Then on we went, via Virginia Water and Staines to Feltham, where much waste land denoted the site of the yards and MPD. The scheduled route lay Twickenham to Barnes, but a level crossing failure (we discovered later) meant a detour through Hounslow. Arriving soon at Clapham Junction, there now followed a most devious route, as we wove our way under the main lines from Waterloo and Victoria to gain access to the latter route at Battersea Pier Junction. The confusion of lines in this area, known for years as the Battersea Tangle, has recently been added to with a new viaduct to enable trains from the channel tunnel to gain access to Waterloo.
And so we arrived at Victoria. There was plenty time here to watch the EMUs running back and forth, as 47 224 backed on to haul us on to the next stretch. A faulty brake pipe on the end coach (ours) resulted in further delay, accompanied by much banging as it was replaced. The half-hour scheduled stretched out to over forty minutes, so we were half an hour late when we finally left.
The route now followed gave an excellent view for the spotters as we passed Stewarts Lane depot, with a large number of locos of various classes in residence. Almost immediately the route used by some north-west to south-east services is joined, and we were soon hurrying through Brixton and Bromley South, to Swanley.
New ground now - a right turn onto the Sevenoaks line, then a few miles further on turning left at Otford junction, on the line which runs through Malling and Maidstone East to Ashford. Attempts to keep down construction costs on this route resulted in a bit of a roller-coaster, with gradients as steep as 1 in 60. 47 224 was audibly earning its keep.
At Ashford we had a good view of the works, where a number of cranes were seen, and sign of the times, a snow-plough which had quite clearly been constructed from either a Peak or class 40 bogie (perhaps it could even have been one of the Southern 1-Co-Co-1 diesels!).
Now for a bit of a curiosity - the line through Canterbury West to Minster, near Ramsgate. We would travel the 25 miles twice today, in the same direction!
A number of passengers left the train at Canterbury - they would be picked up later, foregoing the highlights of Dover and Folkestone.
At Minster, we took the single line onto the Dover line, through Sandwich and Deal. Some discussion followed concerning the Cinque ports - rather inconclusively - I suspect neither of us could have been paying attention during that particular history lesson!
Our immediate destination was Western Docks station, though further delay at Dover Priory made us wait a bit longer. The train was due to reverse in the terminus station, built by the SECR in 1915, and a fine train shed. It is scheduled for early closure, once the tunnel opens. I took the opportunity to stroll along the harbour wall for a few minutes, watching the anglers in the sunshine and fresh sea breeze. "What are you after?" I enquired. "Mackerel" came the reply. Quite a disappointment - I was sure it would be Dover Sole!
I suspect the anglers could have made a better job of reversing the train than BR. Despite the triangular arrangement, it took two locomotives and about 45 minutes. The locomotive used to assist was 47 226, which apparently was not suitable to haul the train to Folkestone Harbour and Ashford, though it was capable of assisting on the incline at the former. The full farce of the manoeuvres was not lost on the tour participants.....
Eventually, we were away to Folkestone, past the tunnel works at Shakespeare Cliff - a vast plain of spoil (?) spread out into the sea. Next stop was the closed station at Folkestone East, before reversal (courtesy of 47 226) into Train Roads, and reversal again, down the fearsome gradient (1 in 30) - the steepest passenger line in the country. Twenty one years ago, I travelled this way on a boat train, on my way to see Iberian steam, another story entirely! There was time again for a few snaps at Folkestone Harbour, before we were away again towards Ashford.
We had hoped to see some more of the Channel Tunnels works at Cheriton, but most of the site is hidden by the cutting we traversed, until we came to the junction itself, where the freight loops are clearly visible - most impressive!
Reversal again at Ashford, before our second trip to Canterbury and Minster Junction, this time turning left towards Ramsgate and Margate. Soon the Thames estuary was in sight, as we worked our way towards Rochester and Swanley, where we regained our outward route.
So we followed the standard route to Clapham Junction. We had regained almost all our earlier losses by some smart work at Folkestone, but here we had to wait a long time before gaining access to the main lines, then a further 20 minutes or so at Clapham Junction station. Apparently some excessively high spirits had caused a cup of hot coffee to be thrown into someoneís face, and a brief enquiry was held on the platform. It does seem that some of the so-called enthusiasts get over-excited on trips like this - we witnessed some noisy behaviour further along our own coach, though mostly harmless, and certainly no trouble to us.
"Do you realise, they havenít touched a drop of alcohol all day?" suggested Steve, "What would they be like if they had?"
From Clapham, the only deviation from the outward route was the stretch mentioned earlier, this time through Twickenham. We never seemed to quite reach our outward speeds on the Great Western main line, though once again we didnít seem to lose much more time. In the gathering darkness, as we headed north past Gloucester, the lights in our coach flickered, then died, which could have been annoying, but at least meant we could keep an eye on our whereabouts. Soon we were back in Kidderminster, about 35 minutes late at about 11.35pm, and all that remained was the short drive home.
Conclusions? On the whole an excellent trip, well stewarded by the organisers, and a most interesting route. Where next, Atlas?
---