Bracing up to it!
22 May 1993
---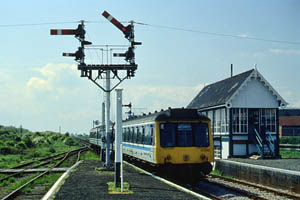 Skegness is so bracing - so the Great Northern poster advertised at the turn of the century. I think I could describe it in less flattering terms! I nearly didnít get there at all.
"What are you doing on the 22nd of May?" asked Steve. "There is a special offer ticket available on that day - anywhere on the ĎBarmouth to Yarmouthí for £13"
"Sounds great to me. Lets do it" Back at work the week following the trip, someone suggested that there was a lot of gastric Ďflu around. Whatever it was, the very early hours of Saturday morning saw me firmly installed in the bathroom (this is a euphemistic way of describing it), with further repeat visits throughout the rest of the night. I didnít need the alarm to wake me, though I was clearly in two minds about going! I decided on reflection that if I didnít eat anything all day, further visits would not be necessary......
"You look a bit fragile" suggested Steve as I joined him at Telford Central. He had planned several possible itineraries, all of which involved a trip to Skegness. Why Skeggy?
a) Because its there.
b) Never been!
The offer was an arrangement with Regional Railways only (shades of privatisation) - we could not travel Inter-City at any stage. The net result was an interesting (!?!?) assortment of multiple units for our wanderings. 156 403 got us to Wolverhampton on time, leaving about 15 minutes to ponder on the state of the innards before travelling on 310 103 (anag.) forming the 0803 local to New Street. Half an hour now, and more pondering, before joining 158 851 (palindrome) for the Nottingham service.
"It should be a loco-hauled train to Skeg - its a semi-fast - only stops at Sleaford and Boston" suggested Steve. "How are you feeling now? Do you want a sandwich? Are you sure? Really sure?"
"No thanks. Yes it might well be"
It wasnít. The 1032 to Skegness, originating at Sheffield, was formed of ageing 117 310, looking reasonably tidy in Regional Railways livery. The 3-car ex-suburban set was clean inside too, in the centre car (no engines, toilet...). Away on time, we lumbered off to the east, onto the former Great Northern route to the coast. A real old-fashioned journey - 1950s stock, jointed rails, signals, signal boxes......
Approaching Grantham, with Belvoir Castle clearly in view on the ridge of higher ground to the south, the train swung to the left, taking the direct line to Barkston East Junction. This meant there was no need for the awkward reversal across the East coast main line - hence Steveís notion that it might being loco-hauled.
Soon came the first stop since leaving Nottingham, at Sleaford. A few years ago, in the company of "Green Arrow" we had travelled between Doncaster and Lincoln on a stretch of the Great Northern and Great Eastern Joint route. Now we would cross it, then later travel along its southernmost remaining metals.
Very flat land now, as we traversed the northern part of the Fens to Boston for the next stop. Boston used to be on the Great Northern Lincolnshire coast main line from Grimsby, through Louth and Spalding to Peterborough. The direct line to Spalding is closed and lifted, as is the coast route north of Firsby, the former junction for the branch to Skegness. Gone too is the line via Woodhall Junction to Lincoln. A little interest in recent years remained in the line to the docks, on the stump of the Spalding line, but this was obviously now disused - well rusted rails and lifted pointwork preventing further use. It has frequently struck me that, when a railway in the UK falls into disuse, its metals are removed with almost indecent haste, as if to prevent the possible embarrassment or nuisance of a revival in traffic. Am I just paranoid?
North of Boston, the former main line is almost straight, until the very sharp, more than 90ļ curve onto the branch. Through Wainfleet, home of Batemanís "Good Honest Ales", before we were soon pulling up at Skegness.
"We ought to have a look at the sea". Our planned itinerary gave us about an hour and a half to play with. "Then perhaps a pint?" suggested Steve "How are you feeling now?"
I must say I was feeling a bit less fragile, though I felt I ought to stick to my no-food plan. Steve decided he would have some chips. "Have a chip. Go on, take one if you want one. Are you really sure you donít want one? Really really sure?"
His concern was of course commendable, though I felt I had to point out that, had I felt remotely like a chip I would by now have helped myself, unbidden.
I suppose the state of my innards didnít help my appreciation of its delights, and I must apologise to any readers who have enjoyed holidays there, but I felt that, having waited over 40 years for my first sight of Skeggy, I could happily leave it another 40 before making a repeat visit!
Of course, we had to call for liquid refreshment before leaving. Suffice it to say that I struggled manfully. I cannot remember what the brew was. I should have known better - whilst my insides continued to improve, I later managed to develop a pretty good headache - lunchtime alcohol and lack of sleep!
I ought to mention that Skegness still has rather a pleasant railway station, which, while somewhat shrunken from its heyday, still has 6 usable platform roads, though two obviously had not seen recent use. Beside the ticket barriers stands a fine modern statue / sculpture - none other than the jolly fisherman of the GNR poster! Carriage sidings, still extant beyond the fine signal box, are somewhat overgrown.
The 1410 from Skegness was formed of 2-car 150 227, led by single unit 153 322, in which we found a bay position.
"My first trip in one of these" "Doesnít count - it isnít really on its own". So we retraced our steps to Sleaford, where we had a few minutes to study this rather fine station, with three platforms and some attractive ironwork, currently undergoing a repaint. The 1513 to Peterborough soon rolled in, this time 153 378 - a real "bubble car" trip!
These modern units are really quite comfortable, and the miles passed quickly as we headed down the GN &GE Jt to Spalding. Only two platform faces in use here - the ruinous remains of the disused part of the station revealing its former importance as a railway crossroads. The M&GNJR is long gone, and the GN & GE route to March is now lifted. Little left to cause any delay, as we headed now down the aforementioned GNR route to Peterborough.
The east coast main line is joined at Werrington Junction, with a couple of miles of main line before the station. Much motive power and p-way rolling stock here, including the green English Electric type 3 D6916. Soon we arrived at the station, on time at 1600.
The original plan had been to travel back to Nottingham from Peterborough, after spending some time on photography. Earlier in the day we had had clear skies and sunshine, but now the clouds had gathered to such an extent that there was little point. Careful study of the timetable revealed a Coventry service at 1639, which would make for a change of scene. 158 849 arrived on time, but was then stuck behind another service at the same platform, so that we eventually departed about 15 minutes late.
I have to confess that I saw little of the scenic route via Melton Mowbray, as sleep got the better of me, and I next became conscious that we were arriving in Leicester. I am not altogether convinced that Steve did any better!
We were soon reversing at Nuneaton and heading down the Bedworth line to Coventry. Many coal wagons stood at Three Spires Junction, where the industrial line to the Homefire plant at Keresley diverges. This was supposed to have finished at the end of March this year, though Steve and I found two locos working trains on the branch shortly after Easter. Arriving at Coventry more or less on time again at around 1824, we had to wait a while for a non-Inter-City service - the 1850 for New Street, ex-Northampton.
This train was formed of one of the modern Class 321 units, no. 413. Apparently these are permitted to run at 100mph; certainly we seemed to fly to Birmingham. Not that this was going to be a lot of help - it was scheduled to arrive shortly after a Shrewsbury train left.
It was here that some confusion developed. Getting off the 321 unit, we heard a station announcement for passengers for stations to Shrewsbury to join the train at platform 6 - which we did without hesitation. The 310 unit was soon away, though not without problems - departure from a number of stations en route was accompanied by what sounded like wheelspin, perhaps the result of the light rain which was now falling.
Arriving at Wolverhampton, we looked in vain for the Shrewsbury service which we assumed was either held there, or would be starting there. Station staff on platform 3 knew nothing of it. On platform 1 we met another SRS contingent, heading for the station exit amid rumours of a taxi. Iím not sure what the real problem was - someone mentioned a passenger trying to get to Wrexham and a cancellation (presumably the train we wouldnít have caught at New Street). To cut a (fairly) long story short, the last I saw of Steve was as he got into the Shrewsbury - bound black cab, while I waited a moment or two for a similar Telford service.
So I arrived at Telford Central in unlikely fashion, a bit earlier than I had expected, in the now pouring rain, and drove the short distance home, reflecting on an eventful day.
I hope the offer will be repeated next year - keep an eye open for it, and take advantage of what must have been one of the best value offers this year. But watch what you eat the day before.......
---