The Bell Viewer
23 October 1993
---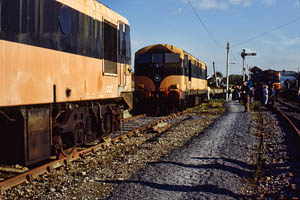 The Irish trip in October 1992 had gone down well with my son. Pathfinder Tours' leaflet for autumn '93 described another, almost exactly a year later, on the 23rd of October. Once again, this was organised in conjunction with the Irish Traction Group. An interesting route was offered - down the east coast to Rosslare, across country through Waterford to Limerick, via Carrick on Suir, preservation base of the ITG, then back to Dublin by our outward route of the previous trip. Once Tom had seen it, it would have taken some really creative thinking to devise a convincing refusal - as if one was needed!
We started the car a few minutes before midnight on Friday night and set course for Holyhead, already making mental comparisons with the first trip. This time a clear starry night, though the half-moon had set long before we reached Snowdonia on the old A5. The dark mountains could be sensed as a darker darkness, from which no stars twinkled - not by Tom, however. He had survived about as far as the Welsh border, and was snoring well now.
The embarkation hall at Holyhead was well filled when we arrived, about an hour before the 4am departure. After 25 minutes queuing, we were able to join the ship, and made for the long bench seats which offered the best chance of sleep, though the numbers travelling would make this difficult.
Tom and I shared a seat, opposite one of a group of three (who looked like fellow railtourers) spread along the seat. His rude awakening came when one of a large party of middle aged French travellers sat on his legs, mine when I was swatted by the arm of her coat as she tried to make a pillow. The occasional rearrangement of this, along with occasional helpful information over the tannoy, meant that we not totally refreshed when we docked at Dun Laoghaire.
The Stena Cambria left about half an hour late, due to taking on a heavy load (unspecified), and we would not have long to wait for the train, so we checked our seating arrangements as we tied up. "Coach F, seats 5 and 6, backs to the engine," I read to Tom. At this out fellow traveller opposite checked his ticket, and looked up.
"That's amazing" he suggested, showing us that he and one of his colleagues would be occupying 5 and 6 facing the engine! Tom had been playing "spot the gricer" while queuing at Holyhead. I had in turn been quietly surveying the crowds, wondering whether we would have reasonable companions for the trip. The problem with the Irish trips is that you get a lengthy preview of all the individuals with whom you would prefer not travel. These three young men seemed almost human, I realised with some relief! (Tom insisted later that one of them looked like Egon Spengler of the Ghostbusters. I could see what he meant! Fortunately, he had left his proton pack at home.)
For last year's trip, a variety of locomotive types had been planned. Today we were due to be hauled entirely by members of the venerable A class, built nearly 40 years ago by Metropolitan Vickers in Manchester, though the 1200bhp Crossleys were replaced from 1968 by General Motors 1325bhp units. Of a plain outline, not totally unlike a BR class 24, these locos look heavy and solid on their Co-Co underframes, and emit a satisfying growl under power.
The sun was just appearing over the horizon as we walked to the station at Dun Laoghaire. No. 012, complete with "The Bell Viewer" headboard, arrived with our train, on time at 0834. We took our seats and were soon away. Once clear of Dalkey, the scenic ride really began and as the sun gradually rose over the Irish Sea, we clearly saw our route south to Bray Head, where the line runs along the cliffs in spectacular fashion.
We continued to skirt the sea to Wicklow, whose mountains were in view to the west. Here, after waiting to pass a Dublin-bound train, we took to the hills via Rathdrum, where we passed a train of ammonia wagons. Now the line follows the pleasant Vale of Avoca back to the sea, passing the Shelton Abbey fertiliser plant (source of the northbound freight) near Arklow.
No 012 made excellent progress along the fairly level stretch through Gorey and Enniscorthy. A number of redundant wagons stood in the sidings at the latter. "I don't think they have moved for a while" I suggested to Tom, pointing out the small trees growing between them.
The route onward follows the estuary of the River Slaney (more splendid scenery) before arriving at Wexford. Since our stop at Wicklow, I had noticed a standard feature at some of the stations on this route was a curious design of combined footbridge and signal box - one set of steps thus serving a dual purpose. I guess these were a standard feature of the old Dublin and South Eastern Railway - I saw none beyond Wexford, its southern terminus.
Wexford is reputed to be Eire's equivalent of the Weymouth Quay branch - except that it sees regular use, being in effect a main line through the streets! Our route onwards to Rosslare Harbour runs along this stretch, which is definitely an interesting stretch of railway. For several hundred yards, the street is on one side and the sea literally (litorally?) on the other.
---
We had never really regained the 15 minutes lost at Wicklow, however a quick run-round at the old Harbour Pier station at Rosslare meant we arrived on time at Rosslare Strand, junction for the line to Waterford, after retracing our steps for a short distance. We crossed a Rosslare bound train here, before leaving a little late again on the line westwards.
Next stop, and in some respects a highlight of the trip, was the station at Wellington Bridge. There is a substantial installation here for loading local sugar beet into trains for delivery to the factory at Mallow, and we were able to gain an insight into the methods employed. A "beetle" - a small wagon - is connected to a cable running between the rails, and is used for positioning wagons under the loading gantry. Loading was in progress, it being the "campaign" season, and a large number of beet wagons, which look as though made from corrugated iron, were present. Also present was no. 051, on beet duties, but relieved of them for a while - our loco for the next stage of the journey. (An earlier tour this way carried "The Beet Route" headboard.) (Think about it!)
Readers who have persevered so far may be wondering why this tour bore its "Bell Viewer" headboard. Shortly after crossing the Barrow Bridge (longest in Ireland at 2131ft), running now along the north bank of the estuary of the River Suir, (more superb scenery) we were to find out.
The first hint was a container ship steaming down river, laden with (you've guessed?) Bell Line containers. Then, within a mile or so, came the huge new Bell freightliner terminal, built appropriately at a place called Belview! This massive investment seems to bode well for rail freight in Ireland, replacing an earlier terminal (still extant) another mile or so upriver, which we passed shortly before stopping at Waterford station, on the opposite bank of the Suir to the town with its attractive waterfront.
Another pause here while 051, our host for just 17 miles, was removed and scuttled off to find some more beet wagons. Now it was to be no. 049's turn!
The scheduled 25 minute run from Wellington bridge had taken 40. We were 50 minutes late leaving, and lost another 5 over the 14 miles to Carrick on Suir (37 minutes!). Waterford's Dublin service is via the Kilkenny line to the north. The passenger service serving Carrick consists of just two trains a day in each direction, though I suspect a fair bit of freight - a train of Bell containers was waiting to cross us in the loop on arrival. I imagine that the track condition could be a problem.
The ITG's collection was on view for us - two Deutz 4-wheeled diesels of CIE G-class, two of the Metro-Vick C-class sisters of our tour locomotives, and the last survivor of the 12-strong B-class. The Cs were originally built with engines of just 550bhp (you would need 6 of them to make a Deltic!), but, like the As, were re-engined, with GMs of 1100bhp. The Sulzer engined Bs, built by Birmingham RC&W, thus became the only non-GM engined main line diesels, a cause of their demise. The last in service was withdrawn in early 1978; the class then "served" in the Inchicore barrier until scrapping commenced in the late 1980s. They were most odd looking locos. Their three small, high windows facing forward gave them a resemblance to (oddly) the Metro-Vick Co-Bos of BR.
Looking at the collection, Tom and I quickly formed the conclusion that the ITG have a lot of work on their hands! Just time now for a quick stroll to the main street and back, across a pleasant small park, before rejoining the train.
---
Now just 4 minutes late, we pulled away from Carrick, but made such poor time that we passed Cahir 14 minutes late. Omitting the scheduled 10 minute stop improved matters, and a shortened pause at Tipperary (it certainly is!) to pass the eastbound passenger service meant we were just 5 minutes down. The route from Carrick had been scenic, with views to the 3018ft Galtymore to the south- west.
Soon we rattled across the level crossing with the Cork main line at Limerick Junction. The route onwards to Limerick (still more than 20 miles distant!) is a major route from Dublin, and we soon discovered that there was little wrong with no. 049. as we rolled along at a fine pace, to draw to a stand, as the sun began to set, just before 5.45pm.
With 35 minutes before departure, we retraced some of our steps of a year previously, in search of a bite to eat. Sadly, the only take away open had already developed an impossible queue, so we made do with a leg stretch and a sandwich back on the train.
We had completed our traverse of new ground in sunshine; now darkness fell as we returned to Dublin via the Nenagh line (our outward route last year), where we passed a Limerick bound service from Ballybrophy - loco, generator van and one solitary coach. No 153s here! Our last highlight was watching no 036 (yes, another loco) running round amid swirls of steam in the gloom at the junction, before settling down for a quick run back along the double-track main line. We were soon back in Dublin, threading the route from Inchicore onto the Sligo line, thence to Connolly, last stop before Dun Laoghaire and the ferry. Somehow we had lost more time on the Nenagh line - less time to wait in the unprepossessing departure lounge, before joining the ferry.
Just before dropping off to sleep, a party of Dublin day-trippers from Rochdale seated themselves nearby. Their noisy conversations regarding their trip - "Eeh, we've 'ad a great day aht", and the imminent switch to BST - "If it teks three-and-a-half hours, we must get in at half three" "If it does, we haven't left yet. Well, have we?" "Eeh, sorry loves, were you trying to sleep?" delayed our slumber only a little.
I think Tom and I had an even greater day out!
---