A Trip to Plymouth
13 June 1987
---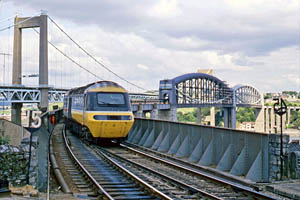 "£12 Day Return to Plymouth" was offered by the BR leaflet, travelling First Class in reserved seats, on Saturdays in late May and June, to be booked in advance.
This seemed too good a bargain to miss, so it was that I joined the train at Wolverhampton on 13 June, with a friend. The outward journey was on the Manchester - Newquay "Holidaymaker Express", due to depart from Wolverhampton at 0846, arriving in Plymouth at 1309, with advertised stops at Sandwell & Dudley and Bir mingham New Street only.
This train arrived hauled rather appropriately by 87 016 "Sir Francis Drake", and having found our seats in the front coach we were away on time.
Despite its suitability for our destination, Sir Francis was of course entirely unsuitable for the journey beyond New Street, and I guessed correctly that 50 038 "Formidable", standing at the western end of the station, would haul us from the latter point. Engine changing does not seem to be BR's strong point, and we were 2 minutes late leaving.
The run as far as King's Norton was rather slow - clearly we were following a local. This was duly overhauled at Longbridge, and we now began to move rather more quickly. Class 50's have a maximum speed of 100mph, a distinction which they shared with the Deltics, and I was able to record a steady 36 seconds between mileposts for a good part of the run to Bristol, confirming this ability.
Between Gloucester and Standish junction we had the unusual experience of passing a steam train heading north. Being seated back to the engine, I was unable to identify the loco, other than its obvious GWR parentage. My friend, facing the engine, thought it looked like a "Castle", but not being an expert in matters Great Western (having spent his train spotting days, many years ago, on the Midland and Great Central lines north of Sheffield) was unable to be certain. I assume it was a Swindon - Gloucester train.
Further on, at Yate Middle Junction, a class 56 "Bardon Hill" stood waiting the road with a stone train from Tytherington quarry
Arriving at Temple Meads at 1040, we stood for five minutes, according to the guard for "Crew relief purposes", to the amusement of fellow passengers. Lurking in the station was a "Peak"; unfortunately I was unable to identify it.
A Paddington - Weston HST slid in alongside us, and we followed it at a very short interval. Several locos stood on Bath Road Shed, including the green 47 "Great Western". Unfortunately the HST was scheduled to stop at both Nailsea & Blackwell, and Yatton, giving us a rather slow journey to Worle Junction.
Beyond this point we again began to move rather more quickly, passing Taunton at 1135, then up over Whiteball and down the other side, passing the new Tiverton Parkway Station, and shortly afterwards the now disused Tiverton Junction Station, before coming to a stand in Exeter St. Davids at 1200.
Four minutes later we were away again, on the scenic coastal stretch. As we pulled out, a class 142 unit in its distinctive livery ran slowly down the bank from Central. This train was probably on a working from Exmouth, which we soon could see clearly as we ran alongside the estuary, before rounding Dawlish Warren and running along the famous sea wall. At Teignmouth we of course swung inland again, to run alongside the river Teign to Newton Abbot.
At Aller junction we took the main line - new ground for the author - and the fearsome south Devon banks. Rattery, Dainton and Hemerdon, relics of the ill-fated atmospheric system, gave 50 038 something to think about, particularly as the curves prevent taking a run. Soon we were in the outskirts of Plymouth, arriving on time at 1309.
---
With just over five hours to spend, we decided on a stroll to Plymouth Hoe, where we took a boat trip past the naval dock yards at Devonport. Aircraft Carrier Hermes, now the property of the Indian Navy, was in residence with several other naval vessels, including two nuclear submarines.
Back on dry land, we caught a bus to Saltash, to photograph the bridge and hopefully a train crossing it. Predictably the sun dipped behind a cloud at the critical moment! Then back to the station, for a bite to eat before joining our train at 1818 - the Newquay - Wolverhampton service. As this pulled in, it became clear that it was the return working of our outward train, complete with 50 038 at the head. The thought crossed my mind that it was most unlikely to be replaced by electric traction at New Street, and that it would be unusual for a 50 to run to Wolverhampton.
We retraced our earlier steps now, with scheduled stops at Exeter and Bristol. On the outskirts of the latter, after a good run from the former, I realised we were over 20 minutes ahead of schedule. A signal stop reduced this to 10 by the time we drew to a halt at Temple Meads. My earlier thoughts proved wrong when the early arrival was explained by an engine change, as 50 038 detached itself from the train. I had observed 45 134 as we passed Bath Road, and now to my great surprise this locomotive was attached to the front of our train.
I was under the impression that 45's were no longer scheduled for passenger services, being displaced from their trans - Pennine trains from the start of the new timetable, and I wondered how 45 134 would fare with a heavier train (11 coaches) and a faster line than it would have been used to. Slow work by the station staff meant that we pulled away 7 minutes late, and I began to feel apprehensive about our arrival time at Wolverhampton.
I need not have worried. The ageing "Peak" made light work of it, with speeds up to 95mph, before pulling into New Street 10 minutes ahead of the scheduled arrival time!
More erroneous guess work followed. Once again I thought it unlikely that another engine change would take place at New Street, and therefore expected our entry via the Camp Hill line, to avoid reversal. Wrong again - we took the usual route via Selly Oak to arrive facing east. I took a stroll on the platform, to watch 45 134 being detached, but when our departure time came it was clear that the "Peak" would not be removed, and we pulled out to take the circular route via Aston and Perry Barr, regaining the normal route at Soho.
Our detour added another 5 miles to our journey, with the unfortunate result that we were 4 minutes late on arrival at Wolverhampton. I cannot imagine that this would have inconvenienced anyone, and certainly it did not mar what had been an excellent day out. Our "£12 Day Return to Plymouth" had truly been first class value, and but for the fact that the offer will have ended by the time this gets into print, can be highly recommended for a day out.
---