Geoff's Pages

Heritage open day 2010 - where shall we
go? (Shall we go?) Nothing caught my
attention amongst the local options -
then a slightly wider scan listed the
"Aston Manor Transport Museum".
"Manor" might perhaps suggest
something out in the sticks - concentrate
on the "Aston" bit. Yes, practically in the
shadow of the Birmingham football
ground...
This little museum is housed most appropriately in a former tram
depot - the rails (3' 6" gauge) are still there between the setts in
the depot floor. It hosts a variety of commercial vehicles, mostly
of the public transport variety. The oldest vehicle in the
museum's possession is a Birmingham tram body dating from
1906; the oldest motor vehicle is a 1928 Dennis van, followed by
an attractive AEC Regal coach of 1931 vintage. At the other end


12 September 2010
of the scale are vehicles which still appear to be "modern",
although their Daimler Fleetline is now nearly 40 years old.
The vehicles are not all static exhibits - on this occasion two
buses were offering rides. We hopped onto no. 3002 (left) - a
Birmingham City Transport Daimler built in 1954 - and enjoyed a
five mile trundle around northern Birmingham - out to Six Ways
Erdington and back. Also taking its turn on these trips was
Midland Red 5479 (above). Both were everyday sights in my
student days - and being everyday sights, didn't seem worth
taking much notice of.
The museum itself is well laid out, with plenty of small exhibits, a
well-stocked shop and a cafe - what more could one ask? Well
worth a visit.
Link:
Aston Manor Transport Museum


Click the thumbnails for a larger picture and caption; use the slideshow and back / forward controls to navigate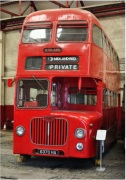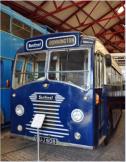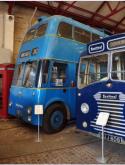 Old Birmingham Buses...
Update:
Sadly, the museum closed on Sunday 31st October 2011. The
preservation group hopes to be able to rehouse the collection some time in 2012.
Check out the group's website (above) for further information