A hard frost, mist and sunshine on the Wenlock Edge - December 2005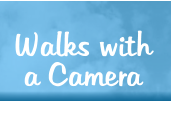 Walks with a Camera © Geoff's Pages 2011
There is a need to escape from the clutches of the
turkey and the sales, in the days between
Christmas and New Year. It's become a bit of a
tradition to do "a short one" (about 7 miles in this
case) when the weather forecast looks sensible -
and on the Wednesday, it did. "Where shall we
go?". As usual, it was up to yours truly to pick a
suitable route - and, given the forecast, the
deeper valleys would be worth avoiding. With temperatures
unlikely to rise above freezing, we'd need the sunshine.
We left the car in the convenient little car park near the Swan at
Aston Munslow, and took the field path to Munslow, there picking
up the track through Millichope Park before descending to the
hamlet of Upper Millichope. A walk up the very quiet road took us
to the crest of the Wenlock Edge.
One very significant bonus of the previous night's
hard frost was that conditions underfoot along this
next stretch were entirely bearable. The Jack
Mytton Way ("Shropshire's long distance bridleway")
runs along the edge for a mile or so here, and
inevitably the surface gets a bit chewed by the
four-legged walkers (I'm not complaining - they're
infinitely preferable to the four-wheeled brigade).
Today the mud was well-frozen, and the walking
was pleasant in the sunshine, despite its lack of any warmth.
Above the hamlet of Eaton, a very steep path - "Jacob's Ladder"
rises to the edge. Its continuation took us down to Hope Dale, the
riverless valley formed by the Wenlock Edge's double escarpment.
From Wetmore Farm, a path rises gently to the second edge at
Middlehope Hill - and from there it's all downhill along the
surfaced lane, treacherous in the frost, to the car and the Swan -
where a pint and a bowl of hot soup provided an excellent end to
the trip.