Rolling hills in Mid-Wales - January 2003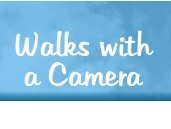 Walks with a Camera © Geoff's Pages 2011
This shortish walk - 7¼ miles, according to "Walker's Britain 2"*,
starts from the oddly-named "Moelfre City", in the middle of
nowhere (roughly equidistant from Newtown, Knighton and
Llandrindod Wells, to be a little more precise). This is high
country, bleak and remote on this windy day, with fine views in all
directions.
Walker's Britain 2 describes the walk as

"Moderate. Smooth rolling
hills, grazed by sheep and semi-wild ponies. Open common,
moorland, hills, valleys; one climb; mud"

. I can't disagree with any
of that! Nor can I add very much - so here are some pictures to
illustrate what was yet another excellent day out - one to really
blow away the cobwebs!