A pleasant stroll in the north Herefordshire border marches - April 2004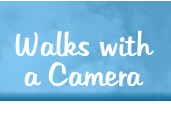 Walks with a Camera © Geoff's Pages 2011
The Riverside Inn at Aymestry lies in an idyllic setting beside the
River Lugg, between Leominster and Leintwardine. The previous
evening's excellent meal there had been followed (after a
decent interval) by a fine breakfast - a leg stretch now was
essential. So, with boots on and cameras at the ready, we
headed for the ancient hill fort of Croft Ambrey, high on the
wooded ridge above Croft Castle. After seemingly endless poor
weather during the spring, the last Saturday in April was fine,
warm and sunny - perfect!
The route is reasonably straightforward - across
the meadows from the inn to the scarp slope of
the ridge, which is gained via a pleasant path
through the woods. The path then follows the
main ridge north-eastwards before reaching the
hill fort, with its prominent earthworks and fine
views towards the north-
west.
From the fort, there are two routes to
Croft Castle - the direct route, and the
slightly less direct one down through the
Fishpool Valley, with its line of pools (oddly
enough), and interesting buildings. We took the
latter - again, a most enjoyable stretch through
the rapidly-emerging spring greenery. The castle,
open to the public through the
National Trust, has a tea-room
which provided a most welcome
break, and just the right time-
interval from breakfast...
The castle is about two-thirds of the way around
this walk (a little over 6 miles in total) - the
route back to Aymestry is fairly direct, but
nevertheless enjoyable. Passing first through the triple avenue of
ancient twisted chestnuts, it then traverses open woodlands with
a multi-coloured display of wild flowers - bluebells, "wooden
enemies", celendines and primroses, before picking up our
outward path for the last half-mile or so. A very enjoyable gentle
amble - just the thing to walk off the calories!